OUR MISSION: Tanzania, Africa
Our invitation to minister in Tanzania Africa came on December 3, 2011 and after much prayerful consideration and anticipation ( only 6 months /10 days later) the Lord provided a way for a team of three of us to travel 9000+ miles to Dar es Salaam and Mwanza, Tanzania for a 17 day, life changing experience. Our mission trip allowed us to work side by side with the local people, with the leaders of the Catholic Charismatic Renewal community, with CRS or Catholic Relieve Services as well as, the Maryknoll Missionaries. We had the opportunity to preach, teach, and evangelize by leading and participating in a retreat, workshops and the Catholic Charismatic Crusade. We ministered through prayer and witnessed miracle healings! We learned about the needs of the people by visiting a CRS sweet potato farm - sustainable living project. We learned about the needs of women and children affected by HIV/AIDS by visiting and ministering at the Uzima Centre, Mwanza. We came back filled with hope and inspiration to make a difference in our world and the world around us!
Be sure to read Erin's journal highlighting the Mission to Tanzania.
PLEASE HELP Vine of Grace Retreat Ministry continue in our missions efforts. You can do so by making a tax deductible donation to help send a missions team to Tanzania in 2012. You can also help by making a tax deductible donation to Vine of Grace for the ministry to distribute the funds to directly benefit the ministries listed below! Donate Today
Mission 2012
We are planning the 2012 Mission Trip, and are proud to be assisting in the fight against malaria. See how you can help to save lives.
Uzima Center
Uzima Centre is registered as a CBO (Community Based Organization) in the District of Ilemela (ILE/CBO/A.50/166/2007) in Mwanza, Tanzania. Our services focus on two target groups: People Living with HIV/AIDS (PLWHA) and Orphans and Vulnerable Children (OVC).

The centre is a Mary Knoll lay Missioners project.
LITTLE GOES A LONG WAY: So how much does it cost to make a difference in the life of an orphan or someone living with HIV/AIDS? Here are some typical costs:

Orphans and Vulnerable Children:

School Uniform with shoes for one child $20

School Fees to attend one year of high school $50

One Saturday program for 5th-7th grade girls $30

People Living with HIV/AIDS:


Average cost of Medical care for one person/year $100

Bus fare to attend clinic appointments for one person
per year $12

Food Assistance for one HIV + Child for one month $10

Monthly Salary for one part time nurse $200

CRS mission is to assist impoverished and disadvantaged people overseas, working in the spirit of Catholic Social Teaching topromote the sacredness of human life and the dignity of the human person. Although our mission is rooted in the Catholic faith, our operations serve people based solely on need, regardless of their race, religion or ethnicity. Within the United States, CRS engages Catholics to live their faith in solidarity with the poor and suffering of the world.
Help CRS touch the lives of 100 million people in over 100 countries this year through programs devoted to: agriculture, building a civil society, education, emergency preparedness, health, HIV and AIDS and micro finance.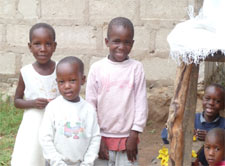 Water and Sanitation: Help Vine of Grace raise funds to build a water well
Clean water means better health, especially for young children. In emergency situations, access to clean water and a functioning sanitation infrastructure enables people to stay healthy while they cope during these stressful periods. Better water management in normal times allows communities to sustain or even improve the quantity and quality of their water sources, which means higher crop yields and healthier animals.
CRS partners with groups ranging from local governments and community water associations to international organizations such as Caritas on projects designed to improve water supplies for domestic, productive, and environmental purposes in the poorest of the world's communities.
More than 1 in 6 people in the world don't have access to safe drinking water.
1 out of every 4 deaths under the age of 5 worldwide is due to a water-related disease.
Nearly 80% of illnesses in developing countries are linked to poor water and sanitation conditions.
Clean water doesn't just save lives, it changes them... forever! Building wells…It's incredibly important work. We need your help!
FUNDRAISING OPPORTUNITIES AND EVENTS:
LOCAL SCHOOL SERVICE PROJECT – "YOUR CHANGE WILL CHANGE A LIFE!" Students bring loose change from home or donations from parents to support the ministry missions projects! Students will learn about other cultures and will gain understanding on issues of poverty, injustice, peace, and the current humanitarian efforts Vine of Grace is supporting in Africa. By giving, the students can be a part of changing the lives of our brothers and sisters in Tanzania!
CONCERT – Date and location to be announced
Donate Today!
| | |
| --- | --- |
| Your donation to Vine of Grace will help to support our Africa Missions Team, as well as the ministry's chosen charities/ministries in Tanzania! | |