Mission 2012
We are planning the 2012 Mission Trip, and are proud to be assisting in the fight against malaria. See how you can help to save lives.
Mission Trip June, 2011
Our invitation to minister in Tanzania Africa came on December 3, 2011 and after much prayerful consideration and anticipation (only 6 months /10 days later) the Lord provided a way for a team of three of us to travel 9000+ miles to Dar es Salaam and Mwanza, Tanzania for a 17 day, life changing experience. Our mission trip allowed us to work side by side with the local people, with the leaders of the Catholic Charismatic Renewal community, with CRS or Catholic Relieve Services as well as, the Maryknoll Missionaries. We had the opportunity to preach, teach, and evangelize by leading and participating in a retreat, workshops and the Catholic Charismatic Crusade.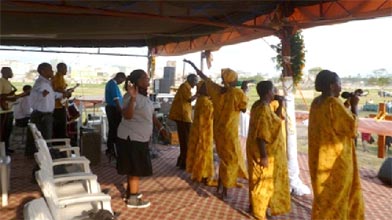 We ministered through prayer and witnessed miracle healings! We learned about the needs of the people by visiting a CRS sweet potato farm - sustainable living project. We learned about the needs of women and children affected by hiv/aids by visiting and ministering at the Uzima Centre, Mwanza.
We came back filled with hope and inspiration to make a difference in our world and the world around us!

Learn more about our ongoing support in Tanzania.

Be sure to check out Erin's Photo Journal
Missions Trip July 2012
Tanzania, Africa
Volunteer Opportunity!!
Come on a mission trip! You are invited to experience the opportunity of a lifetime by joining Vine of Grace on our missions trip July 2012. We are looking for 3 or 4 dedicated and spirit led Catholic volunteers from Tucson, Az. who are willing to raise their own support and can commit to a 2, 3 or 4 week trip to Tanzania Africa. We want to use your gifts, your heart and your passion for our church, our Lord & Savior Jesus Christ and His people in Tanzania! We guarantee that you will come back filled with hope and inspiration to make a difference in your world and the world around you. If you're interested in learning more about what to expect on the Vine of Grace missions trip to Tanzania, the culture, traveling requirements, and missions purpose and schedule, contact the ministry.
To make a donation to support our on-going work in Africa.

PLEASE HELP Vine of Grace Retreat Ministry continue in our missions efforts. You can do so by making a tax deductable donation to help send a missions team to Tanzania in 2012. You can also help by making a tax deductable donation to Vine of Grace for the ministry to distribute the funds to directly benefit the ministries listed on our charities page.
Vine of Grace is a 501 c 3 organization
All donations are tax deductable. Call 520.631.1408 for details or to pledge your support.
PRAY FOR US!
SALAMA! (Peace in KISWAHIL)